Grab these titles while on sale
We have monthly sales, stay tuned to get the best deals.
We aim to provide content to equip believers in the body of Christ for the work of the ministry through evangelism, discipleship, daily growth, Bible study, shepherding, and academics so as to accurately study and teach the Word of God as described in 2 Timothy 2:15.

Very good translation
Very good and precise translation for a cheap price. I use this translation as book since 2007 and i am happy that i can continue to read and work with the same translation in theWord.
ON TIME
RECEIVED AND ALL IS FINE!
I use the Word books for bible studying. It is very useful software.
So, I will expect this USB S/W verison is also good performace for bible studying.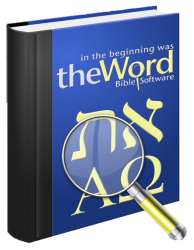 I have been using this software for over 20 years.
An indispensable help for Me on the path of spiritual growth.
Best regards, be blessed.
A Very Happy Customer
I use the Word primarily for copy and paste verses into my lessons. On the occasion I need a look=up tool I have found it to be very good. Great product, Great Price. I am happy to recommend The Word to anyone interested in an easy-to-use Bible tool. God Bless. 🙂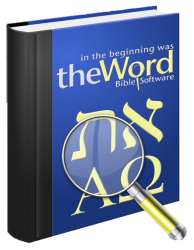 A very good introduction to Hebrew Grammar
Here is a wonderful introduction to Hebrew and Hebrew Grammar. I can recommend it with all my heart. And again thanks to the team of programmers of TheWord. They are doing excellent work for a most excellent program.
An important work for those interested in Hebrew Grammar
Like every work of TheWord this book is of a very high standard.. The authors of this book is known theologians, who know how to lead students in theology and also Hebrew Grammar. I can recommend every work of them and also this book.
An important work for theologians
I am very impressed with this work of the programmers of TheWord. Their work is really of a very high standard. Its linked to the Hebrew Bible and very easy to use.
Exceptional
The Theological Dictionary of the NT: Abridged in One Volume (TDNTa) - is exceptional. It has helped me in my sermons and exergetic classes. Theword Bible, is number one.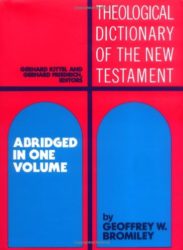 I cannot get it downloaded. So, it may be good, but I will have to wait until I find a more computer literate person to come help me out.
C JB
I bought this add-on Bible, because the Rabbi of my online Synagogue uses it. I like to read and compare it to my TS2009 and the HRB, and the WEB with Apocrypha. It is a really good added Bible, which is an asset for comprehensive studies, and I suggest that others get it, because, aside from the Titles used instead of Names, I think it is really an accurate translation Bible.
The NET 2.1 Bible is an Excellent Addition
The NET 2.1 Bible is an excellent addition to TheWord Bible software. I have the hard copy but this so much easier to use. The translators notes show the original language and explain their reasons for the words they chose in their translation. I immediately began to see things in the Greek text that I had not seen before.
The NET Bible 2.1 doesn't seem to have the ability to open the notes in the commentary window. I believe that feature is available in the previous version. I was surprised the see that the 2.1 version has Strong's numbers. I overlooked that when I read the Bible information.
The NET Bible 2.1 is very helpful in understanding the original text. TheWord Bible software is the best.
Unqualified Review
I am not by any means qualified to make a "real review" from a knowledge of Hebrew stand point. However I am a big word study person. Knowing very little Hebrew.......I will say this module is pretty easy to navigate. By "right clicking" on the Hebrew spelling in another module (Mickelsons/BDB/LXXHebGreek and then clicking on "Look up" ..... TDOT should show up on the list. Just click it and there it isl!!!!!
Actually the module is overwhelming as to the information contained in it. It certainly is in depth.
The module is VERY pricey!!! BUT if you are a word study person and you can afford it. I would recommend getting it.
I like the NASB
I like the NASB bible. I use the paper version at times, and am still checking to see if I appreciate the 2020 version and its changes. I bought one for myself, and one for a friend who uses Windows 10 (I myself use Linux and still am debating where I stand with TW). I also have purchased Legacy Standard Bible and plan on comparing it NASB.
I like how NASB plays within TW, and it will rapidly become my "go-to" bible, unless the LSB edges it out!
Darrel
What a blessing
Anyone who is a follower of Christ and desires to strengthen their commitment to Him must learn as much about Him as they can. TheWord Bible software is one of the best ways I have found to do that. It's hard to believe that this valuable software is made available to anyone free of charge. Even the price of the purchased software is most reasonable. I believe the Lord has helped to make this software freely available to anyone who is interested in knowing Him. We are commanded in scripture to "grow in grace and the knowledge of Christ". This is one of the best ways I know of to do just that. Thank you for making this software freely available to all. Be blessed.
Take a look at our newest additions
We strive to add new content to our library every month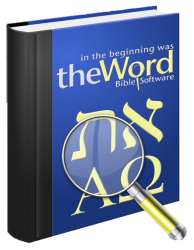 theWord.net, theWordbooks.com and theWord community is committed to producing high quality, useful products for Christian laymen and those in the ministry.
Read what others are saying about theWord software
I certainly would. I actually use 3 different bible programs but this one is front and center. It takes a little digging to get out of it what you want it to do for you…. but when you figure it out….. IT IS AMAZING!!! You probably never will take advantage or even know ALL the features!!!! I guess the best thing for me is how the different windows work together. You can have them all attached and resize your most used ones…….. or they can all be separate and positioned on your desktop for your best functionality. For multiple monitors….this is a dream. Most of the basic modules that you would pay for in other programs are free for the taking in theWord. There are also paid modules that you can get as you see fit at your study level. If you are becoming a student (not just a reader) of the WORD…. This is a wonderful tool to have. Don't get over whelmed with it all….. just find out how to do what you want to do at the level you are and then find the features and how to use them as you need them. THANK YOU THANK YOU for theWORD Bible Software.
Dru Alton Spluga
I used it a lot about 7-5 years back and will use it again in the future for sure. It's very wonderful and useful for analyzing any language. It's an amazing free software.
Larry Rogers
Dear TheWord team,
I really want to say thank you. With this thanksgiving, I stand before our Lord Jesus Christ and praise his holy and glorious name for giving you such gifts. I have been blessed abundantly with this software. There is no better software for me! I wish you from the heart of God's rich blessings, strength, patience and love that you can continue to work as the Lord uses you!

Be blessed in the name of our Lord Jesus Christ
Greetings from Germany
Andrej
Thank you for The Word. I discovered this many years ago while working out of state in West Virginia. It has lead so many of those who divinely crossed my path to be able to read and understand The Bible and many have accepted The Lord Jesus Christ as Lord and Savior. God bless all you and your families as we strive to bring The Good News of Jesus into a lost and dying world. R. Rice
I am very grateful to God for having placed in Costas Stergiou's mind the idea of creating a free program of such excellent quality and so useful for my personal life and for my work in the Lord's work. God bless you dear brother! A big hug from Colombia.
Luis Antonio Palomino Samudio
Thank you, for your great Bible program, I been using it for years and like it that much, I highly recommend it to others. I really appreachate you making available "A Faithful Version" module. You have put allot of effort into this web site with one of the best Bible PC program/app out there. So many versions to choose from. Once again Thank you, from John Wise, USA.
John Wise
UN GRAND MERCI POUR THE WORD
MOH LDH
Estou muito feliz de poder usar este aplicativo extremamente útil à obra de Deus. Sei que vai me ajudar muito e aos da comunidade da qual faço parte.
Alain John da Costa Lemos
There is no better Bible commentary than this. I recommend it. If I had money I would donate you for the glory of the Lord. Remain blessed. Love from Rwanda.
Omar Ndamutsa
Great lay out, and easy to use site!
Delton Koehn
This is my go-to Bible study software… I write books with it and diagram my Bible. Just a lovely piece of art. Have taught others how to use it over in Europe. I have other high-end Bible software but it´s just a big clunky library. However, TheWord is different. The cost I´m sure was high to make this software, but the price to get it…you can´t beat it! Thanks Costas!
Kevin Kenney
[Robert from Ghana, God richly the developers of this software. it has been a backbone in my ministry as a gospel minister. great job done! never give up for God will reward you with this work to support spreading of the gospel, Matt 28:19-20 ]
Robert
This is the best if not one of the best bible softwares i"ve used so far. Its easy to download plus all its modules. I recommend it to any bible lover. I love it.
Francis Appiah
I am so grateful to God for the people behind theWord. Amazingly helps me in my biblical studies. God Bless this resource for it is really a great blessing to us who seriously desiring to have a deep understanding of the scriptures.
Wished I had a lot of money to donate as I get as much or more from your program than all the other free ones I have and even the ones I own that I have through help from others. I can put my Bible reading calendar in one of the modules and keep them updated by deleting or adding so easy.
Believe me…this is the best Bible software ever. I have used it for several years and find it is better for me than the purchased one…Never stop your great WORK for our LORD.
…Your Fellow Servant of Christ Jesus
Harold Altman
Eu do Brasil (Amazonas), estou aqui para agradecer a Deus e a vocês da theWord por está maravilhosa ideia, eu peço a Deus que multiplique mil vezes todas as bênçãos que tem recaído sobre vocês, e peço em nome de JESUS nome sobre todo nome amém
Marcio Pinheiro
I am from South Africa (Groblersdal), and I would like to extend my astronomical gratitude to "the word" team for their remarkable job on this software let alone making it free for all to access. This is a true act of serving God. I have used this software for almost 4 years and I'm thoroughly impressed by the effort you have put in it. May God continue to bless you in all your future developments.
Kevin Malope
This software is a God-send for any Bible loving servant of the Lord. I have been blessed daily as I have found the best resources I could ever want. Thank you for your service to the Lord in making this program available.
R. William (Bill) Rambo
I have used The Word from the plug in key. Works wonderfully and has been a complete blessing to me. It runs independent of the internet allowing a person without those services to have access to the many bibles and resources available.
Jeni
TheWord has proved to be a truly invaluable resource in my exhaustive efforts in researching, writing, editing and refining several technical documents comparing various modern Bible versions and their underlying koine Greek New Testament manuscripts and their related text-types. TheWord's rich feature set, elegant and intuitive user interface, customizability and modularity are just a sampling of the lush advantages that put this superb package on par with professional Bible software literally costing hundreds of dollars. Kudos go to the earnest Christian developer for his God-inspired efforts in producing such a phenomenal program!
Edward